Quinoa is a type of ancient grain that provides many health benefits. It's light texture and subtle flavor makes it a versatile ingredient to cook with. Although there are so many tasty combinations you can make with it, I have found some personal favorites that I wanted to share with you!
»Quinoa Black Bean Burrito Bowl by Tori Avey«
Ingredients
1 cup

quinoa

1 tbsp

olive oil

1/4 cup

minced onion

1 clove

garlic, minced

2 cans (15 oz each)

black beans, rinsed and drained

1/4 cup

chopped fresh cilantro

1/4 tsp

chili powder 

Pinch of

cayenne pepper

1/4 cup

fresh lime juice

1 cup

shredded lettuce

Salt
Optional Topping Ingredients
Grated cheddar or jack cheese

Sour cream or Greek yogurt

Pico de gallo or salsa

Diced seeded tomatoes

Hot sauce or sriracha

Sliced avocado

Guacamole

Corn
Instructions
Rinse the quinoa thoroughly in a mesh strainer or sieve, drain.
Pour quinoa into a saucepan along with 2 cups of water.
Bring the quinoa to a boil, then reduce heat to a low simmer and cover the pot. Let the quinoa simmer for about 20 minutes till it becomes tender and all the liquid has been absorbed. Keep a close eye to make sure the quinoa doesn't burn.
While quinoa is cooking, heat 1 tbsp of oil in another saucepan over medium heat.
Pour minced onion into the saucepan and saute for a few minutes till it softens and begins to turn brown.
Add the minced garlic to the pot and let it saute for 1-2 minutes longer till aromatic.
Add the black beans to the pot of onions along with 1/2 cup water, 2 tbsp of chopped fresh cilantro, chili powder and cayenne pepper.
Bring the beans to a boil, then reduce heat to medium low.
Let the beans simmer for 15 minutes till the liquid is mostly evaporated.
Stir in 2 tbsp of fresh lime juice. Season with salt to taste.
Top each portion of quinoa with 1/4 cup of shredded lettuce.
Top each portion of lettuce with simmered black beans.
Top the black beans with your choice of Optional Topping Ingredients (ideas listed above).
»Asian Quinoa Bowls with Peanut Baked Tofu by Alyssa Rimmer«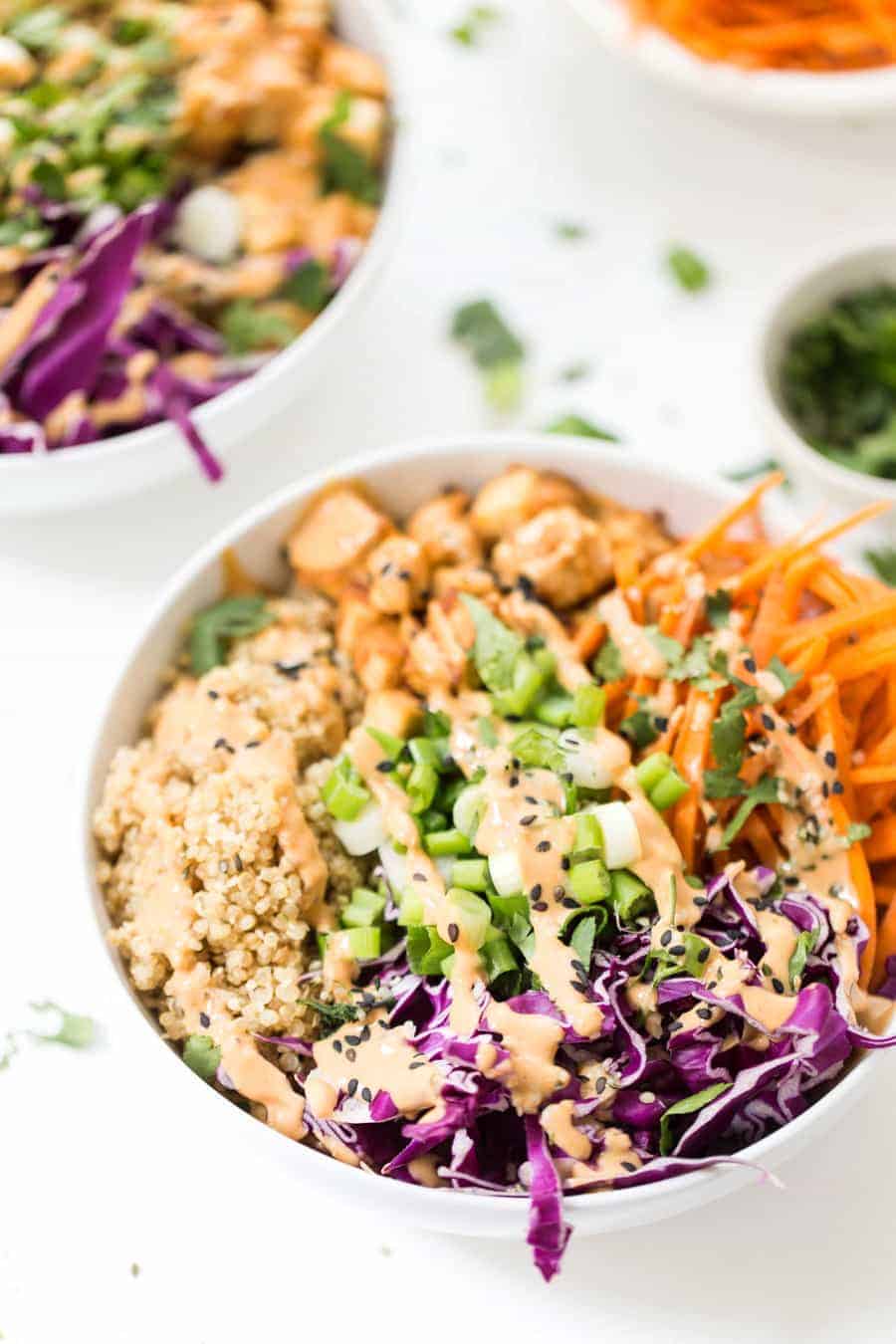 Ingredients
1

cup uncooked quinoa

1

teaspoon ground ginger

3

teaspoons tamari, divided

1

cup water

1 1/4

cups Almond Breeze Almondmilk Coconutmilk Blend, divided

1/4

cup peanut butter

Juice of 1 lime

1

teaspoon Asian hot sauce

1

block extra firm tofu, cubed

2

cups shredded cabbage

2

cups shredded carrots

1

bunch scallion, sliced

1/4

cup chopped cilantro

Sesame seeds to garnish (optional)
Instructions
Add quinoa, ginger, 1 teaspoon tamari, water and 1 cup of almondmilk coconutmilk blend into a small saucepan. Bring mixture to a boil, cover and reduce to simmer for 15 minutes. Once liquid has been absorbed, set aside until ready to serve.
While the quinoa is cooking, preheat the oven to 400ºF. Grease a baking sheet and set aside.
In a small bowl, whisk together peanut butter, remaining 1/4 cup of almondmilk coconutmilk blend, remaining 2 teaspoons of tamari, lime juice and hot sauce. Continue to whisk until smooth and pourable (add a splash more almondmilk as needed).
Add tofu to a mixing bowl and toss with half of the peanut dressing. Transfer the tofu to the greased baking sheet and bake for 30 minutes until crispy, flipping halfway through.
Once tofu is done, assemble your bowls. Divide the quinoa, tofu, cabbage, carrots and scallions evenly among 4 bowls. Drizzle each with the remaining dressing and sprinkle with cilantro and sesame seeds. Enjoy immediately!
»Mediterranean Quinoa Bowls with Romesco Sauce by Kevin Lynch«
Ingredients
FOR THE ROMESCO SAUCE:
2 large red bell peppers, cut in half lengthwise and seed removed
1 large plum tomato, cut in half lengthwise
2 cloves garlic (in skins)
1/4 cup almond slivers or slices, lightly toasted
1 tablespoon lemon juice (or red wine vinegar)
2 teaspoons smoked paprika
1/4 teaspoon cayenne (or to taste)
salt to taste
olive oil to taste
FOR THE QUINOA BOWL:
1 cup quinoa
1 3/4 cups water or broth
1 avocado, sliced or diced
1 cup tomato, diced
1 cup cucumber, diced
1 cup artichoke hearts, quartered or coarsely chopped
1/2 cup kalamata olives, sliced
1/4 cup feta (crumbled)
2 tablespoons parsley, chopped
Directions
FOR THE ROMESCO SAUCE:
Place the peppers (skin side up), the tomato (skin side down) and the garlic on a baking dish and roast under a broiler until the skins of the red peppers have blackened and charred, the tomatoes are roasted but before they are charred and the garlic is lightly golden brown, about 5-15 minutes. (You will need to pull the garlic and the tomatoes out before the peppers.)
Let cool and remove the skins from the peppers and garlic.
Puree everything in a blender or food processor.
FOR THE QUINOA BOWL:
Bring the quinoa and water to a boil, reduce the heat and simmer, covered, until the liquid has been absorbed and the quinoa is nice and tender, about 15-20 minutes.
Assemble the quinoa bowls and enjoy!